In years past, wood was a common component used in the construction of buildings. The material was strong, affordable, and readily available. However, thanks to modern advances, steel construction options such as metal buildings have surpassed the lumber trend.
These buildings are versatile, durable, cost-effective, and easily customizable for a wide range of applications. From residential to uses to commercial businesses and even DIY options, there's no wrong way to use them.
But did you know they're also great for adding extra space to your building? Whether you're attaching an add-on to your metal garage or connecting a metal building to your home, you'll want a good idea of the customization options available.
Things to Consider Before Expanding Your Metal Building
To ensure that your metal building expansion goes smoothly, it's important to keep several factors in mind:
1. Location
When planning your metal building project, it's vital to ensure that you choose the ideal location. You'll need to select an area that works well and has easy access to utilities such as plumbing and power. For commercial businesses, you'll want to find a locale near amenities and traffic and ensure that construction does not bother customers.
2. Site Preparation
Another crucial factor is site prep. Before expanding, you must level your build site and construct the necessary foundation. Proper site preparation will ensure that the installation process goes smoothly.
3. Permits and Local Codes
You'll also want to ensure you've secured all the necessary permits. Local authorities often require these permits before breaking ground on any construction project. Additionally, businesses will need to check the zoning of their property to ensure that they are operating in conjunction with all local regulations.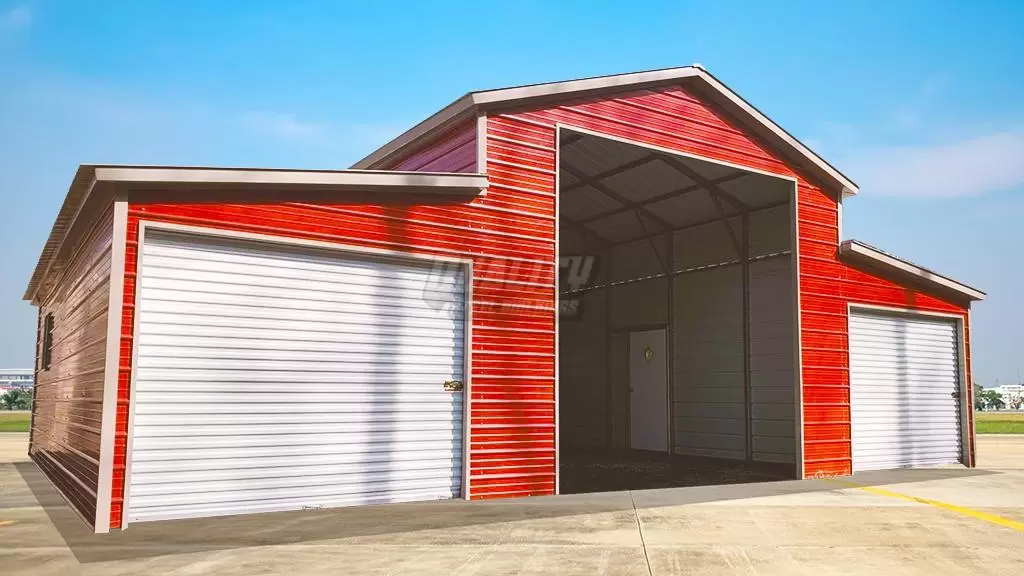 Why Should You Expand Your Metal Building?
Aside from providing a cost-effective option that offers a great selection of traditional and modern designs, metal buildings bring a lot to the table. They're far more affordable than wooden structures. They last longer. And they are far more customizable. And consequently, they're far easier to expand than other building types. By expanding your structure, you can:
• Add extra storage space for valuables or inventory
• Hire more employees
• Upgrade your office space
• Create a guest house or living quarters

In addition to these benefits, residential metal buildings offer an unrivaled space for housing vehicles, equipment, tools, and important possessions.
How to Expand Your Metal Building
In most cases, it's beneficial to use the same manufacturer or deal of your first building to handle the expansion since they'll have a far greater understanding of your building than the average metal building company. Of course, there are also DIY options if you have a background in construction and want to handle the entire process on your own!
Nevertheless, here are the best avenues for expanding your metal building:
1. End Walls
One of the best ways to expand a metal building is to remove existing end walls and extend the structure with additional framing and roofing. This will easily provide you with ample space for larger applications.
2. Add Additional Structures
Another great way to expand your metal building is by adding extra structural elements to the side, front, or rear of your building. By doing this, you can create secondary structures, additional rooms, and more.
3. Add Lean-tos
A lean-to is one of the easiest ways to expand a metal building and consists of side paneling and roofing that continue the slope of the original roof. They're easy to design and can be customized to a wide range of sizes. And whether left open to the elements or built to be fully enclosed, they can provide plenty of extra room for your needs.
Quality Steel Buildings Has You Covered
Quality Steel Buildings is proud to be a leading provider of metal buildings. With a proven track record of delivering high-quality metal garages, metal barns, metal carports, and more, we have something for every job and taste.
Our buildings are designed with modern engineering techniques and are ready to take on almost any environment.
And if you're looking for a solution for your metal building expansion, contact Quality Steel Buildings at +1 (877) 215-6555Call Now! Our building professionals are waiting to help you design and install the metal building of your dreams!