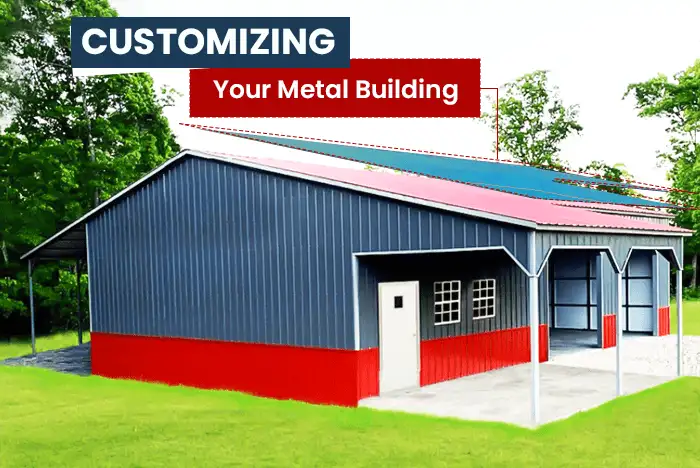 A metal building is a strong, long-lasting method of protecting your vehicles, equipment, and valuables. These structures have become incredibly popular in residential, commercial, and industrial settings. But what truly sets them apart from wooden alternatives is their customization capabilities. From top to bottom, almost every aspect of these buildings can be altered, changed, adapted, or expanded.
This makes them highly effective for many purposes, from home garages to commercial storefronts and everything in between. However, if you're unfamiliar with the metal building industry, all the options available might seem confusing. To help make sense of it all, we've put together a handy guide for customizing your new metal building.
Metal Building Options to Design the Perfect Look for Your Structure
When you purchase a custom metal building, you'll have a wide range of customization options available to you. With these options, you'll have full access to change almost every aspect of your structure. Change its look. Change how it's used. Make it truly your own. The only limits are your budget and your imagination! Below, we'll dive deeper into the many customization options available.
1. Size Dimensions
Your structure's width, length, and height will be entirely up to you. These structures can be designed to any dimension or layout, allowing you to cater your building to your exacting standards.
2. Roof Styles
Most metal building kits will have several roofing types available, each with different purposes and capabilities. Some of these roofing options include:
3. Regular Roofs
A regular roof is a roofing type you'd most likely see on a classic carport, with rounded corners and horizontal paneling. It's a great economical option that's well-suited for regions that experience mild weather.
4. A-Frame Horizontal Roofs
Also known as boxed-eave roofs, A-frame roofs closely resemble the designs you'd find on a traditional home, with sharper corners, a sharp peak, and horizontal paneling. A-frames are a great mid-tier option that's designed specifically to handle regions with high winds but minimal rainfall averages.
5. Vertical Roofs
The strongest and most expensive roofing option, vertical roofs combine the best aspects of the A-frame design with vertically oriented paneling. This clever design allows snow, debris, and rain to easily slide off the structure, keeping the roof free of damaging materials.
6. Doors
For enclosed custom steel buildings, doors are an absolute necessity! And you'll be able to choose as many of them as you need. They come in several sizes, including standard entryway and even larger garage doors. And if you prefer to install custom doors, manufacturers can even frame them out according to your measurements.
7. Windows
Windows are a fantastic way to bring natural light into your structure. You'll have several window options available, including custom frame-outs if you choose to install custom windows.
8. Colors
Metal buildings don't have to be so dreary and utilitarian! Quality Steel Buildings offers a wide selection of colors to choose from, allowing you to customize your building's aesthetic. And if you prefer a subtle approach, you'll be able to change the color of your paneling, roofing, trim, and even wainscoting!
9. Gauges
Most metal buildings are constructed using 14-gauge steel framing. But for commercial and industrial-grade structures, you may want to choose thicker 12-gauge framing. This same principle also applies to the paneling, with 29-gauge paneling being the standard and the heartier 26-gauge being a great reinforcement option.
10. Trim
The trim is a small yet impactful part of your metal building. Here, you'll be able to customize the trim types you prefer. You can even add wainscoting to give your structure a more rustic, home-like feel! The choice is yours!
11. Certifications
While not a customization per se, the certification process is a standardized process that ensures a building can withstand the wind, snow, and seismic forces of a particular region. Local building authorities often require this certification before issuing permits. This is also true if you expect your structure to be included in future property appraisals.
Connect with Quality Steel Buildings, Your One-Stop-Shop for All Things Metal Buildings
Quality Steel Buildings is proud to offer a wide selection of metal buildings for all walks of life. From small equipment sheds to steel building kits and everything in between, we handle it all! Our structures are designed to work in almost any application and for any purpose. Are you looking for a multi-car carport? We can help! How about large metal garages? We do those, too!
Not only do we produce highly durable structures, but we also have some of the best metal building prices in the industry. We also offer fantastic financing options and rent-to-own programs to put you in the driver's seat of your very own metal building, no matter your budget.
So, if you've been considering a metal building to protect your most important valuables, you've come to the right place. Give us a call today at +1 (877) 215-6555Call Now and let our team of building experts help you design and customize a structure that works for you and your family!