Metal Building Roofing Styles
When you purchase a carport, metal garage, or any other metal building, it's vital to pick the right roofing system. You'll want to carefully choose the roofing system best suited for both your tastes, your needs, and your climate. Let's take a deeper look at our available roofing types so that you can find the best roof for your new structure.
Three Major Metal Building Roof Styles
Taking the time to pick the right roof for your new structure can make the difference in how it performs and how long it will last. Below, we've put together a small guide to our roofing options and their capabilities.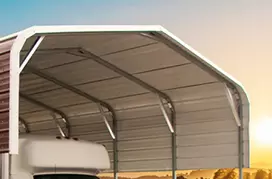 A great, economical option, regular roofs are your traditional 'carport' roof, with horizontally placed paneling and rounded corners. It's a modern classic for a reason! And if you live in regions that experience moderate weather and minimal winds, a regular roofing option might be right for you.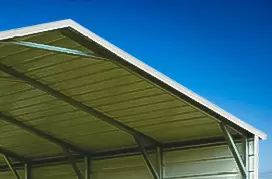 Also known as boxed-eave roofs, A-frame roofs look more like the roof you'd find on a traditional home, with overhanging awnings, a steeper roof pitch, and a sharp peak. This option is a fantastic mid-level option that's designed to handle heavy winds but minimal rainfall. An A-frame horizontal roof will be your prime choice if you live in an arid region.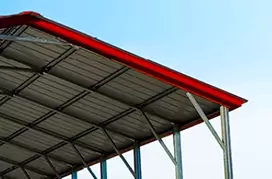 Stealing the best features of the A-frame roof design and combining it with vertically-oriented paneling, a vertical roof is our premium roofing choice. These vertical metal roof panels allow rain, debris, and snow to easily slide away from your building, keeping it clean year-round with minimal need for maintenance. In addition to its ability to shake off old tree limbs and heavy snowfall, vertical roofs are engineered for climates that often see high winds and heavy rainfall.
Metal Building Roof Panels
When it comes to steel structures, metal roofs are a great way to protect your facility for years with minimal need for repair. In addition to the previous roofing sheets, there are additional options of choosing between screw-down metal roofing and standing seam roofing. Let's discuss them below:
Metal Roofs and Heat Transfer
The roof of a structure dictates almost everything about its energy efficiency. Standing seam metal roofs are designed to address all different forms of heat transfer. Reflective paint coatings block radiant heat from transferring into attic spaces, and the airspace that standing seam roofs offers will minimize conductive heat transfer. This same design, combined with the proper ventilation systems, can also redirect convective heat back out of the attic through exhaust vents.
Metal roofs are also a great way to maximize heat retention during the winter. These roofing systems, combined with the precise manufacturing of a steel building, can conserve heat far better than stick-built alternatives.
As a result, metal buildings with standing seam roofs are extremely energy-efficient, capable of staying cool during the hotter summer months and warmer in the winter.
The Benefits of a Metal Roof
There are many ways that metal roofs can benefit you in your everyday life. So many, in fact, that we could go on about it for ages. But we'll just narrow it down to a few of our favorites:
Metal Roofs are Long-Lasting
You'll be hard-pressed to find a roofing system that lasts as long as one made of metal. These roofs are designed to resist moisture, UV rays, debris, and almost anything else you could throw at it.
---
Environmentally Friendly
Metal roofs are more easily sourced than shingle or asphalt roofing and feature a much smaller carbon footprint. Additionally, metal roofs are 100% recyclable, allowing you to melt them down when they've reached the end of their natural life.
---
Style
Metal roofs are an extremely popular option for a wide variety of different structures, from residential homes to commercial buildings and everything in between.
---
Quick Installation
Metal roofs are easy to install and, in most cases, can be completed in mere days.
---
Fire resistance
Did you know that metal roofs are resistant to temperatures as high as 1,200 degrees Fahrenheit? And while no structure is truly fire-proof, a metal roof will always be your best bet in terms of fire protection.
---
Energy Efficient
With the capability to keep your structure warm in the winter and cool in the summer, metal roofs are one of the most energy-efficient options on the market.
---
Minimal Maintenance
With metal roofs being designed to allow debris such as leaves, tree limbs, and snow to fall from your structure, you'll spend far less time keeping it cleaned and up to date on maintenance.
---
How to Maintain Your Metal Roof
When you purchase a carport, metal garage, or any other steel building, it pays to keep everything in working order. Luckily for you, that won't require much since they practically care for themselves. To maintain your metal roof, you'll need to:
Perform an Eyes-on Inspection


Take special care to walk around your structure and check if there are any signs of damage. Sometimes, storms can cause damage to a building that goes unnoticed until it's too late.

Check for Debris


Debris such as leaf litter and tree limbs can retain moisture. And while our roofing systems are designed to resist moisture infiltration, constant exposure for extended periods can allow rust to form.

Call a Specialist


While many roofing jobs may seem like a seasoned amateur can perform them, we promise you it's a task better left to professionals. If you must clean the roof of your structure or repair any leaf fall, you'll want to call in a trained roofing and gutter specialist. These experts are trained and capable of keeping your facility in tip-top shape without the dangers of falling from a ladder.
Quality Steel Buildings is Your All-in-One Solution for All Things Metal Buildings
Whether you're looking for a small equipment shed, an enclosed metal garage, or a large commercial building, Quality Steel Buildings has the structure you need. With a wide variety of building types to suit any application, you can find a perfect structure for you and your family. They're strong, cost-effective, and capable of lasting for years with minimal repair needs.
And if you're working on a budget, we have excellent financing options that put you in the driver's seat of a new metal structure. These plans have flexible payment structures, fast approvals, and excellent interest rates.
So, if you've been thinking about a structure for your family, you've come to the right place. Give us a call at +1 (877) 215-6555Call Now and let our team of building experts help you design, customize, and realize a metal building for your family or business.
It's Your Metal Building. It's Your Opportunity.