Metal Buildings in Bellbrook
Are you looking for reliable and strong structures in Bellbrook to protect your cars, valuables, and other possessions? Quality Steel Buildings has the best and sturdiest buildings in the business! We offer top-notch metal buildings for whatever your needs may be – from garages, barns, carports, and commercial metal buildings to small sheds for your backyard and large warehouses for your business goods. These custom buildings will perfectly fit the needs and bills. Our expert precision-engineering and the choice of galvanized steel make these buildings stand up to any weather conditions for generations. Get the security and protection you need with Quality Steel Buildings!
Our team of building professionals in the industry are ready to help you bring your project to life and make your dream structure a reality. Contact our building experts today at +1 (877) 215-6555Call Now to discuss your steel building needs.
Free Delivery
And Installation
Custom Metal Buildings Bellbrook for Every Season
Steel buildings are known for their strength and resilience, being able to withstand any weather conditions that Mother Nature throws their way. Quality Steel Buildings are always prepared to rise to the challenge, whatever the season.
Metal Buildings in Spring
Custom metal buildings are a great choice for any springtime project. Whether you're building an agricultural storage facility, an outdoor workshop, or a carport, these structures are designed to stand up to the elements, such as high winds and rain, while keeping your items safe and sound.
Metal Buildings in Summer
When the summer heat strikes, steel buildings can provide a welcome shelter from the sun. These structures offer good insulation, making them perfect for summertime activities like camping, picnic, and outdoor events.
Metal Buildings in Fall
When the fall chill sets in, metal buildings can provide a great way to protect your belongings and equipment from the elements. These structures can take extreme temperatures and winds, so you can be sure that your items will remain protected. Whether you need a storage shed, a workshop, or a carport, prefab buildings are a great option for fall projects.
Metal Buildings in Winter
Winter projects can be accomplished with steel buildings because they are highly affordable and durable. These buildings are designed to take heavy snow, rain, and extreme temperatures, making them an ideal structure for winter storage solutions. However, you can choose from a variety of colors that will fit in with the winter landscape. And, because metal buildings are low maintenance, you don't have to worry about doing a lot of upkeep during the cold winter months.
Types of Steel Buildings in Bellbrook
The versatility of Bellbrook buildings set them apart from their competitors. These structures are incredibly flexible and are ideal for any task at hand. Here are some of our most popular metal buildings.
Top Selling Quality Steel Buildings in Bellbrook
It's Your Metal Building. It's Your Opportunity.
Bellbrook Metal Building Kits
Our metal building kits are perfect for those who have a knack for building things with their own hands! These kits come with all the features of our standard metal buildings, but you get to construct it yourself. If you don't want to wait for a lengthy installation process or are looking to set up your building at your convenience, then our kits are the ideal solution. Besides, they can be a great way to bond with family and friends while learning something new!
Cost of Steel Buildings Bellbrook
The price of a metal building depends on its design and can cost you around $10,735 to $15,000 for an 18x41 metal garage, $31,432.50 to $38,000 for a 40x41 garage with lean-to, and $107,535 to $117,535 for a 60x101 commercial metal building. However, this price can vary depending on the roof styles, size, color, location, steel prices, and other customization options.
At Quality Steel Buildings, we take pride in offering a wide range of steel buildings at affordable prices. However, there are many factors that can influence the final cost of a metal building, including raw steel cost, customization, location, dealer, and more.
Why Choose Quality Steel Buildings?
You can purchase a metal building from any number of companies, but you can only get the best customer service, fastest lead times, and lowest prices in the industry from Quality Steel Buildings. Best of all, you can count on our friendly, reliable professionals to treat you with fairness and respect as they guide you to the highest quality metal building for your needs. Here are just a few of the traits that elevate Quality Steel Buildings from the rest.
Got Questions? Send Us a Message
Benefits When You Buy from Quality Steel Buildings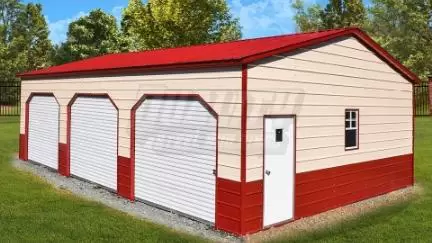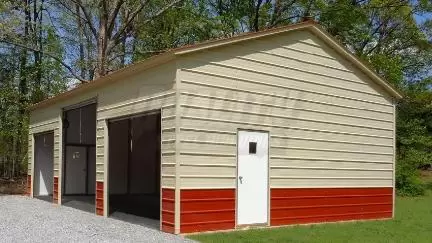 Free Delivery and Installation

Galvanized Steel Framing

Certifications for Snow and Wind Loads
One Year No Rust Warranty

Braces and Anchors on Every Leg for More Stability

The Choice Between Horizontal and Vertical Roofing Panels